All About Me
Hafa adai todos hamyo!! My birth name is Jesus (pronounced "hay-soos")
(familian 'Matot"). I was born and raised in Chalan Pago. While growing up
in Guam, I was mostly known by my nickname "Dong." Nowadays, I also
answer to "Jess," "Chief," or "Grandpa."
I Left Guam in late 1965 to join the Air Force (The truth:...to avoid being drafted). I came
home in 1970 for a 4 year tour at Andersen. I never plan on making the Air Force
a career; but I was having so much fun, I forgot to get out. I stayed in for over 28 years.
here's by story.
I am a retired Air Force
Chief Master Sergeant
and currently residing in Belleville, Illinois
near
Scott Air Force Base
with my wife Linda. Linda is formerly from nearby Saint Louis, MO.
I moved here from Wichita Falls, Texas in late 1998, to be near my two sons....but specially
my two grand children (got four now). Before that, I had lived in Dayton, Ohio; Spangdahlem,
Germany; and Tacoma, Washington to mention a few.
This is home now. So, if any of you are visiting or passing through the Saint Louis area
(City of Saint Louis and Metro East -- Belleville, Fairview Heights, and O'Fallon, IL)
let me
know
.
And while you are here and you just happen to see a black SUV with an
Illinois license plate,
KADOKU1
-- well, that me -- cruising the highways and byways.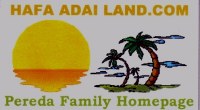 B
ACK TO HOMEPAGE