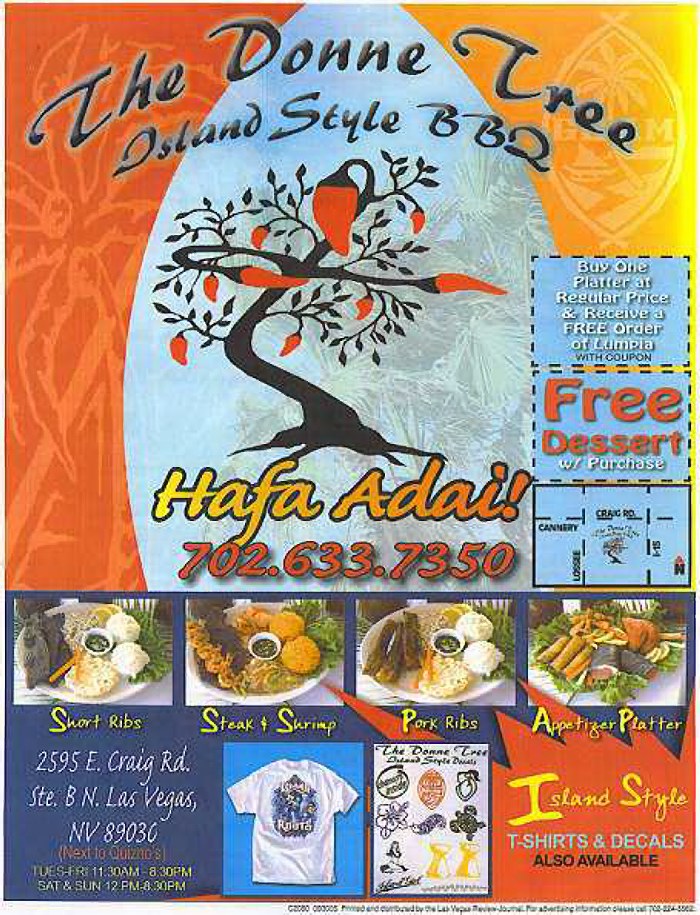 The Donne Tree - Island Style BBQ
Email: roberta boom <rboom622@yahoo.com>
Phone 702-633-7350
My name is Roberta Gogo Boom.. I am the owner of The Donne Tree Restaurant in North Las Vegas, Nevada. I just wanted to send out the word to all the folks at home and everywhere Chamorro folks can be reached "That We Are OPEN". We've actually been open since December of 2004 and our menu is now in the Sprint yellow pages.
We have been received very well. People from the island, the military and all the surrounding neighbors are very happy to eat some real good food. We have a lot of people that were stationed or were teachers in Guam. They can't believe that they're actually eating Chamorro food again. I am very proud to say that we are here to represent our culture. Some people that come in have never even heard of Guam. I am happy to educate them on what and where it is.
I have not been on Guam for over 20 years. My mom (is now deceased) was Concepcion "Connie" (former last name was Ebio and then remarried and last name was Dean then later in the states married again to Jose Fejarang in Fairfield, Ca.
My memories of the island are truly something I hold dear to my heart as I hold my mother. She was a hard worker and instilled in me great values. I owe it all to her for having the Chamorro Strength and dignity. Though I am half something else (Mestisa) I was raised on Guam and always have been around Chamorros even in the states, I am proud to be Chamorro.
I hope that people will patronize this restaurant and are happy to see that my family and I are working hard to spread the Chamorro culture to our neighbors here in Las Vegas.
DIRECTIONS TO THE DONNE TREE: Take I-15 North to Craig Road (EXIT 48), turn Left, cross railroad tracks, about a block up on the left hand side. The restaurant is at the corner of the building next door to Quiznos. If you pass the Cannery Casino you've gone too far.